043 – Fearless Life: Interview About Fear, Stress and Gratitude With Yogi Aaron
Fearless life, days without stress – this is what many people are talking about. Learn some secrets from today's guest speaker, the owner of Blu Osa Yoga Retreat, Yogi Aaron.
Stressless and Fearless Life with Yogi Aaron
Listen to this episode or you can subscribe to it in iTunes or Stitcher, or 

TuneIn

, or via 

RSS

 for non-Apple devices
Yogi Aaron has an amazing story about how he found his true calling in life. Great interview to listen to! Especially if you like to live your life without stress and full of Gratitude.
About Yogi Aaron: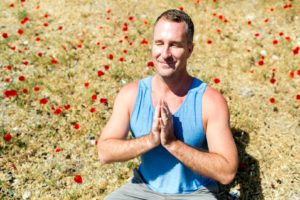 Yogi Aaron, author of "The Autobiography Of A Naked Yogi," currently serves as the co-owner of Blue Osa Yoga Retreat + Spa on the Osa Peninsula in Costa Rica.
Aaron has led, and continues to lead international yoga retreats and journeys around the world, as well as leading yoga teacher training and immersion programs at Blue Osa. He is an expert in the yoga community with proven marketing methods and is a leader to yoga teachers who are looking to grow their yoga businesses.
Yogi Aaron believes in spreading the benefits of yoga to everyone. He is a master in providing and holding space for people to realize their own limitless potential. Aaron's specialty lies in helping students touch the pure part of themselves through their yoga practice.
Aaron's approach
to alignment is fresh, practical, and applicable for the world we live in. Aaron believes there are several conditions that human beings need to have in order to find their right paths – the space to practice, the opportunity to restore, and a deep experience of community and fellowship. Aaron feels blessed to be a witness to such transformations over the years. Read more…
---
If you like this page, then please help me to promote PEACE and HARMONY. By clicking "Like" button you will join me in spreading PEACE and HARMONY around you!
Make a wonderful day happen!
Peace!
Jin
Comments
comments