042 – Urban Monk: Martial Arts, Fitness and Nutrition with Coach Shay
Urban Monk is the name of the company created by coach Shay Vasudeva in Phoenix, AZ. She was a guest speaker for our podcast!
Custom Fitness and Nutrition Program with Coach Shay
Listen to this episode or you can subscribe to it in iTunes or Stitcher, or 

TuneIn

, or via 

RSS

 for non-Apple devices
Shay is an excellent Karate and Tai Chi instructor, Fitness and Nutrition Coach. She is blending Karate, Tai Chi, Fitness and Nutrition in one package to meet the clients' needs. She is
America Certified Personal Fitness Trainer (CPFT)
Certified Nutrition Therapist (CNT)
Goju-Ryu Black Belt instructor
About Shay and Urban Monk: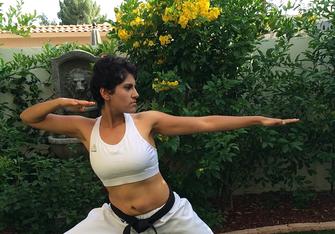 "I'm Shay Vasudeva, Founder and Head Instructor at Urban Monk. Here is what I do and why I do it!
I grew up as a competitive athlete, playing tennis and softball on a national level. I started training martial arts at the age of 10. By the time I was in college, due to personal life circumstances and traumatic experiences, I had a multitude of injuries and health conditions.
These injuries left me physically and emotionally depleted. Softball was the joy of my life and I played on a Travel Team. Even after a traumatic incident that resulted in a dislocated wrist, I chose to continue to play. As a result, I ended up needing a major surgery on my right wrist. I was in a cast for almost one year and physical therapy for multiple years.
I was on an emotional low and was prescribed medication for pain. I started eating food for emotional gratification. The result of my poor eating habits, irregular routine with my pain medicines, the now sedentary lifestyle as well as side effects of certain medications was enormous weight gain. By the time I was 22, I was a size 14 and close to 160 pounds! At 5'2," these are unhealthy figures!"
Read more here…
To learn more about Coach Shay, and to find the schedule of classes she is teaching, visit her site
Urban Monk
Books recommended by Coach Shay:
---
If you like this page, then please help me to promote PEACE and HARMONY. By clicking "Like" button you will join me in spreading PEACE and HARMONY around you!
Make a wonderful day happen!
Peace!
Jin
Comments
comments