039 – Becoming Unbreakable and Overcome Adversities with John Vespasian
Become unbreakable, overcome adversities or even rebuild life from the ground up in the modern world is not always easy! John Vespasian is explaining this process in simple steps.
Become Unbreakable with John Vespasian
Listen to this episode or you can subscribe to it in iTunes or Stitcher, or 

TuneIn

, or via 

RSS

 for non-Apple devices
About John: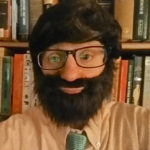 John Vespasian is the author of seven books about rational living. He's teaching people how to achieve happiness, how to deal with life when everything is falling apart, what are the keys to permanent stress relief, how to become emotionally unbreakable and how ordinary people can become extraordinarily self-confident.
Becoming emotionally unbreakable is a primary skill for achieving happiness. His latest book, "On Becoming Unbreakable" presents the principles of psychological strength, together with stories of people who have used those principles: How did Joseph Abbeel survive the Napoleonic wars, and manage to start a new life? Which crucial success principle was discovered by the Ancient Roman poet Ovid? How did Buffalo Bill cope with his tremendous financial mistakes? How did William Turner protect himself against negative criticism? Their stories will show you what to do when you are confronted with severe problems, even when everything seems lost. This book aims at making you highly resistant to adversity. Its principles will enable you to move on with your life despite difficulties, obstacles, and setbacks.
Books by John Vespasian
---
If you like this page, then please help me to promote PEACE and HARMONY. By clicking "Like" button you will join me in spreading PEACE and HARMONY around you!
Make a wonderful day happen!
Peace!
Jin
Comments
comments